Students At-Risk Team (STAR)
The Office of Student Affairs developed a webinar explaining details about the Students At-Risk (STAR) team and guidelines for reporting students of concern. Please click the image below to view this important information.

Student of Concern (STAR) Online Report form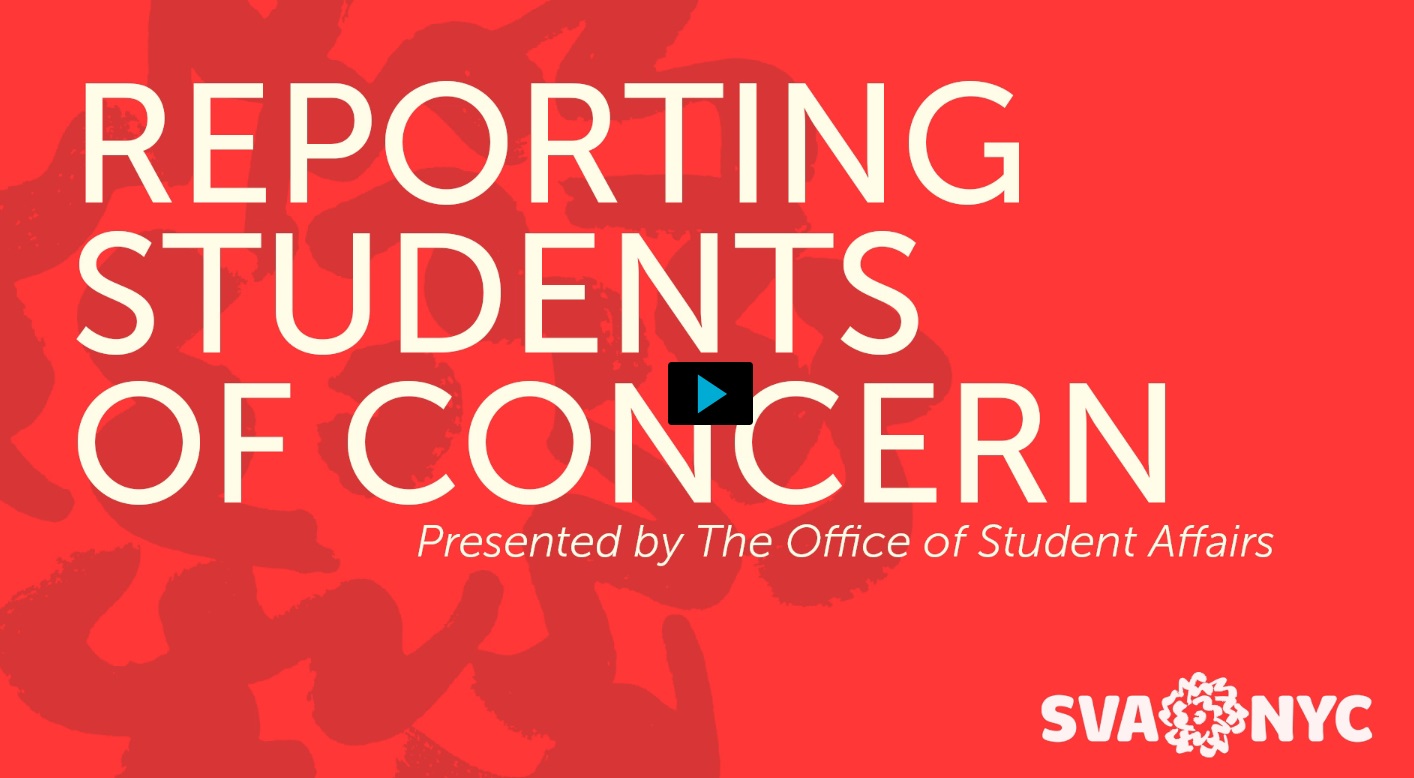 Preparation is key to knowing what to do in an emergency situation. Watch this important video to learn about SVA's emergency resources and response procedures.
The following are helpful guides to emergency preparation and procedures.
Emergency Response Guidelines
Emergency Numbers Wallet Card

Safeguard Your Personal Property
Campus Safety 101: Safeguard Your Personal Property
The Office of Security Services is charged with maintaining a safe and secure environment at SVA. Its chief responsibilities include patrolling campus and staffing security desks; lending assistance and coordinating with first responders in emergencies; investigating reports made by students, faculty and staff; and collecting campus crime statistics for the US Department of Education. The office's success depends heavily on cooperation from all those who it is asked to protect.
Carry your SVA-issued wallet card with telephone numbers for security desks, and keep a copy at your desk. For a replacement card or to request one, contact proffice@sva.edu.
Employees: Close and lock your office door and windows, whether you are going out for lunch or leaving for the day.
If you find an open door or window in a public area, close it.
Employees: Keep valuables under lock and key, especially if you do not have a locked office.
Don't leave personal belongings—wallets, backpacks, pocketbooks—unattended.
Report all incidents and thefts to your building's Security Desk.
If you are reporting an incident after business hours, call the 24-hour Security Desk at 209 East 23 Street: 212.592.2001.
To report a suspicious individual or activity, notify the nearest building's Security Officer.
If you find a backpack, package or gym bag, don't move it. Notify the nearest Security Officer.
When in doubt, trust your gut. If you see something that would make you uncomfortable or fearful at home or on the subway, it's something to report to SVA Security.
Student Services
Career Development/Internships
SVA Electronic Communications Code of Conduct
NJ Transit Student Discount
NJ Transit Sign-Up (Click the link NJ Transit Discount)
Get On Board With A 25% Discount For NJ TRANSIT Mobile Student Monthly Passes
Full-time undergraduate and graduate students are eligible to purchase a rail, bus, or light rail
mobile student monthly pass at 25% off the regular monthly pass price, when they enroll online
through NJ TRANSIT Mobile Student program.
New to Mobile Student Program?
Getting started or re-enrolling is easy.
1. Go to the SVA NJ Transit Sign-Up
2. Enter your student ID number and press "submit"
3. Fill in all required fields on the registration form
4. Verify your student email address.
5. Download the NJ TRANSIT App and buy your Mobile MyTix Student Monthly Pass.
After you sign up, the discounted student pass can be purchased directly from the
NJ TRANSIT mobile app. Passes may be purchased from the 19th of the preceding month through
the 10th of the month that the pass is valid.

Mobile passes offer the convenience of purchasing and displaying your student monthly pass on
your mobile device. No need to pre-pay or wait for a paper ticket in the mail. Buy at your
leisure.
It's important to remember:
• Download the NJ TRANSIT app
• Open the app and tap BUY
• Sign in with your .edu email and password
• Select a Student Monthly pass and pay for it in the app
• Monthly passes are available for purchase from the 19th of the previous month
through the 10th of the month the pass is valid
• On the 1st of the month your student pass will display in the app
Students who participate in this program agree that the monthly pass is for their exclusive use only. Each student is eligible to receive one discounted monthly pass per month. Passes are non-transferable. Any abuse or purposeful deception will result in the cancellation of the student's monthly pass account, and they will be unable to participate in the program in the future. This will also apply to any other student who is knowingly involved.
Sign Up for your NJ TRANSIT Mobile pass today!
Campus Links